A junior parkrun that brings a Sheffield park alive with volunteers and children on Sunday mornings
"We are the sum of our parts. Our core volunteer base who turn up week in week out, in all weathers are the absolute stars of of our junior parkrun. You know who you are, and you are amazing." Diane, Volunteer Coordinator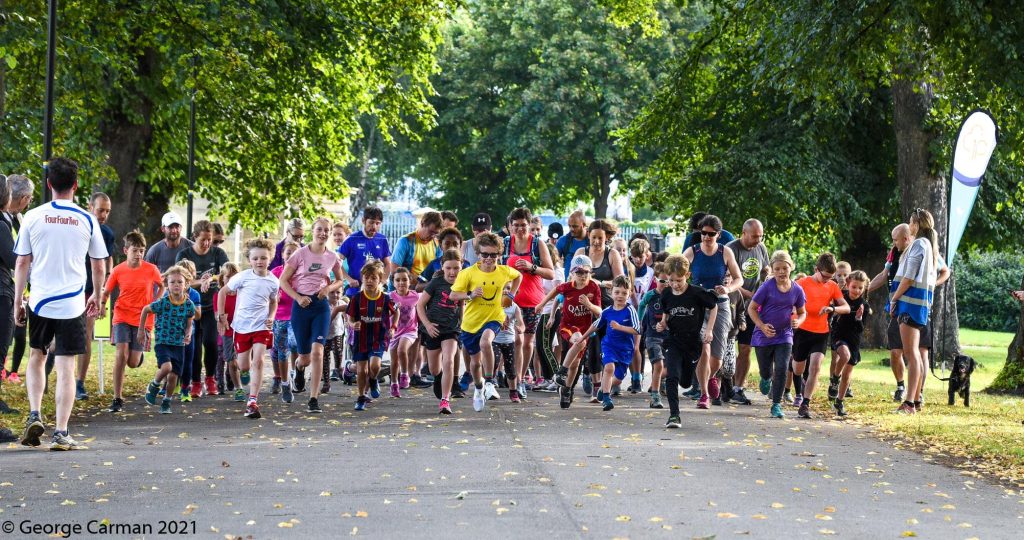 I'm writing this sitting on a sunny and windswept campsite, in the far corner of Pembrokeshire in Wales, sheltering in the lee of a substantial old hedge. The Swifts are swooping around me catching insects in mid air. It's Sunday morning and as I write 195 children are striding or skipping their way around the 2k course in Hillsborough Park, Sheffield, 250 miles away.
I first met Diane and Keith over a coffee at the Riverside Café in Hillsborough. They had offered to be part of the team, in whatever role was needed, to help with the new junior event. I put to them the idea of being volunteer coordinators and they agreed – with little idea of what that would really involve.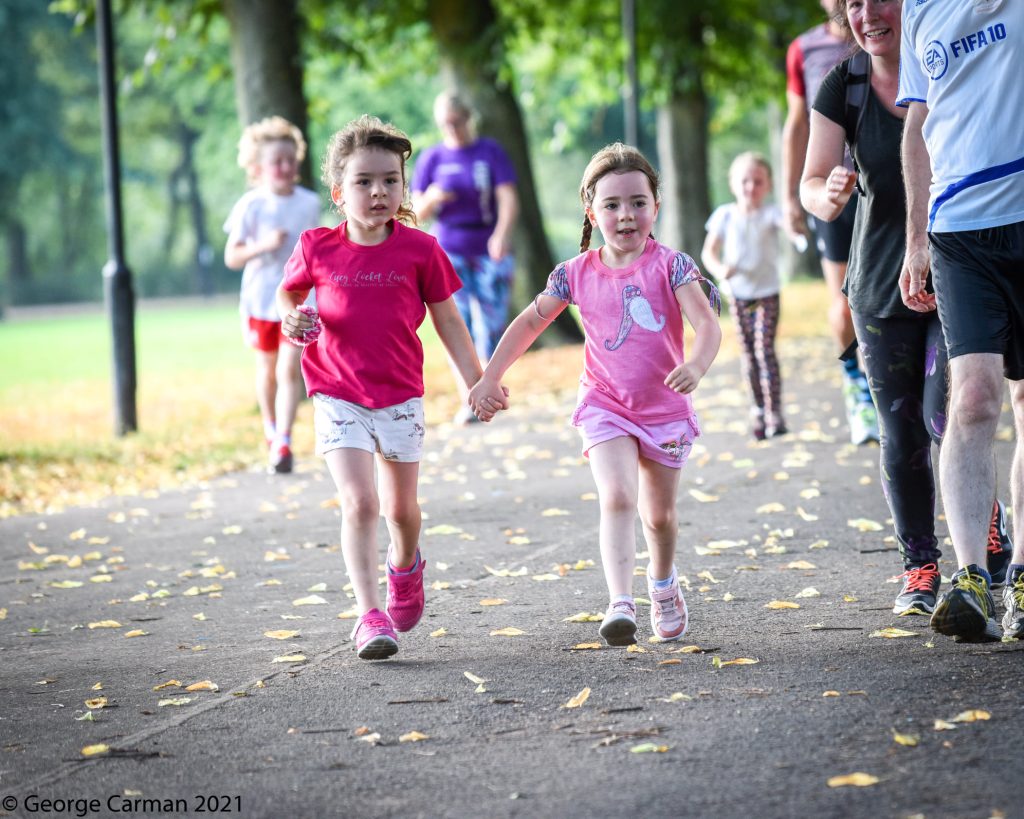 The seed for a new junior event in Sheffield had been sown in a chance conversation with John, the Event Director and main man at the Hillsborough 5k, late in 2019. I must have enquired if there had been any interest in a junior event given that there was such a thriving 5k. I probably let slip that I'd started and been the Event Director of Guildford juniors up until my move to South Yorkshire. And so the challenge was mine to accept.
Just before Christmas, John published an announcement on the 5k news page and by Jan 2020 we'd already assembled most of the team. We met, rather formally I recall, at the café at the Sheffield Olympic Legacy junior parkrun. We'd all volunteered and then their EDs shared some wisdom and gave us a quick demo on how to process results.
By February 2020 I had secured all the funding we needed to to start our new juniors and I was able to submit everything to parkrun HQ. The majority of the funds came from the Sheffield Town Trust and Sheffield City Council Ward Pot, plus donations from the local orienteering, triathlon and running clubs and a kind local donor who made up the final shortfall. We then had to wait 18 months as the Covid Pandemic paused all parkruns in the UK and beyond. Our inaugural event was finally held on 15/8/2021 where we had a manageable 44 children.
As I scribble plans for a new junior parkrun and prepare to say farewell to Hillsborough, I'm holding down the pages of my notebook in the gusts. I recall why we are camped next to the big hedge on this windswept field in Wales. Thank you Keith for your tip on where to pitch on this site so far away. "Don't go for the view, go for the shelter". You were spot on!
Things I'll take with me from Hillsborough Juniors
Sophie overwhelming the marshals with loveliness
From the first event, young Sophie (and her parents) have played a key part in helping on junior parkrun day. After watching me brief the marshals for the first few weeks, Sophie stepped into this role, and confidently explained to a bunch of adults the responsibilities to keep the children safe and what to do if one took a tumble. She encouraged them to clap and cheer the juniors and she advised them that there might be grumpy park users who didn't like the paths being full of young children – and that the best way to deal with moaners was to "overwhelm them with loveliness". Oh how I smiled to hear my expression come out of Sophie's mouth!
Keith and his happy hour
Within a year, Keith had stepped into the role of Co-Event Director bringing a calm, responsible, mature pragmatism to this role. It was a welcome addition to the team, a great help to me as by now I no longer lived in Sheffield, and a reflection that Diane was single-handedly mastering volunteer coordinating. I love that Keith describes junior parkrun as his "happiest hour of the week".
Flynn being a junior role model
Flynn was our first finisher on our first event. He's a regular first or fast finisher and usually catches his breath, pops on a high vis and starts scanning. We love to see juniors volunteering at junior parkrun. Flynn is now the proud owner of a 100 run wristband.
Oscar who had his 4th birthday on parkrun day
Ringing his cowbell and shouting "go faster", Oscar became a regular marshal as it got closer to his 4th birthday. To his mum's great excitement that important day was on a Sunday – a day now known as "parkrun day" in their house. On that big 4 day they ran a bit, walked a lot, hopped, galloped, and chased each other, accompanied by his cousins and his nana, and cheered on by birthday high-fives from the marshals.
Katy – Oscar's mum making it fun
Now that Oscar is about to get his half-marathon band, Katie, who is a competitive mountain runner, says her biggest takeaway is to make it fun. "Every week we go at Oscar's pace and that's OK, we're there. For anyone thinking of taking their little one and unsure – go for it. Whether you walk or run, make it all the way or just do one lap, you'll be made very welcome."
Michael
A keen VM70-74 parkrunner, who started his journey into athletics on the long-since closed Hillsborough track, ran 5 miles each way to help at the inaugural event. Michael acknowledges our hardy and dedicated volunteers who turn out in all weathers and he's been a regular in a high-viz ever since. "I'm glad to see the park now being used to give our youngsters a great start to the day and which, for some, may be a starting point to an athletic future."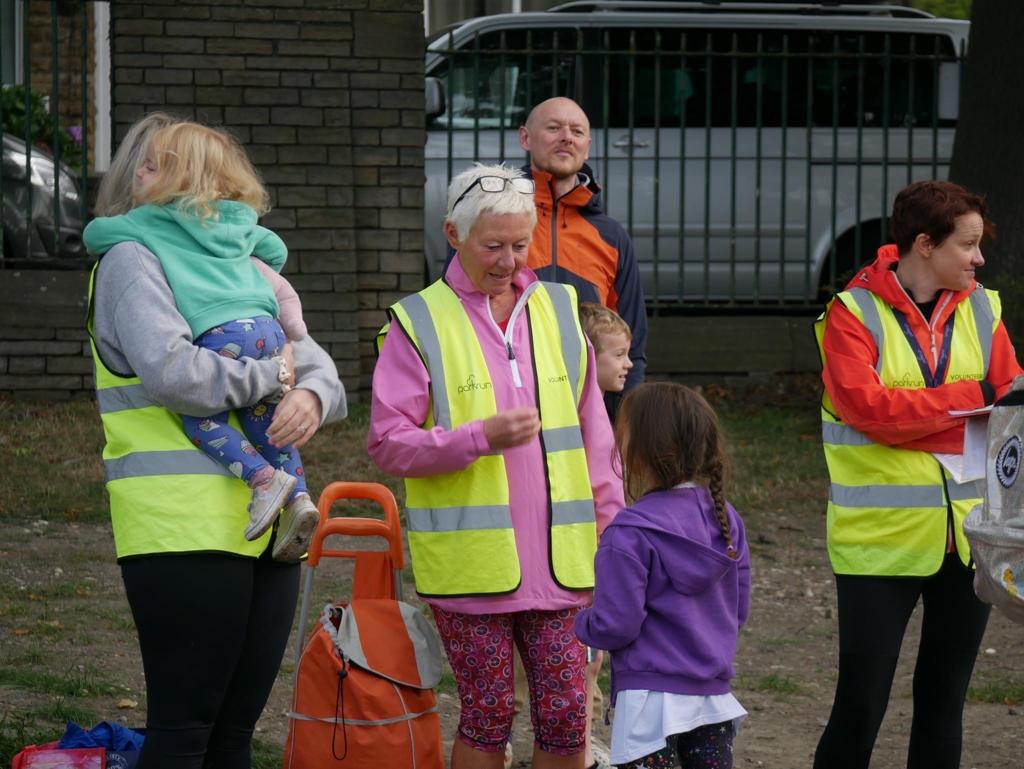 Diane – once met never forgotten
According to Keith, Diane never sits still so, if you've volunteered at Hillsborough juniors, you will know that an offer is always accepted and processed on the parkrun website within minutes. Diane sometimes can't be physically there on the day but Keith can't remember a time over the last 2 years when she didn't coordinate and process the volunteer system from wherever they have been – Cape Verdi was probably the furthest away. There is a lovely community feel about volunteering at Hillsborough juniors, everyone knows each other and there's always a buzz while we wait for the children to arrive which is no small measure down to Diane making sure she knows everyone: Once met never forgotten!
Lessons I've learnt from Hillsborough juniors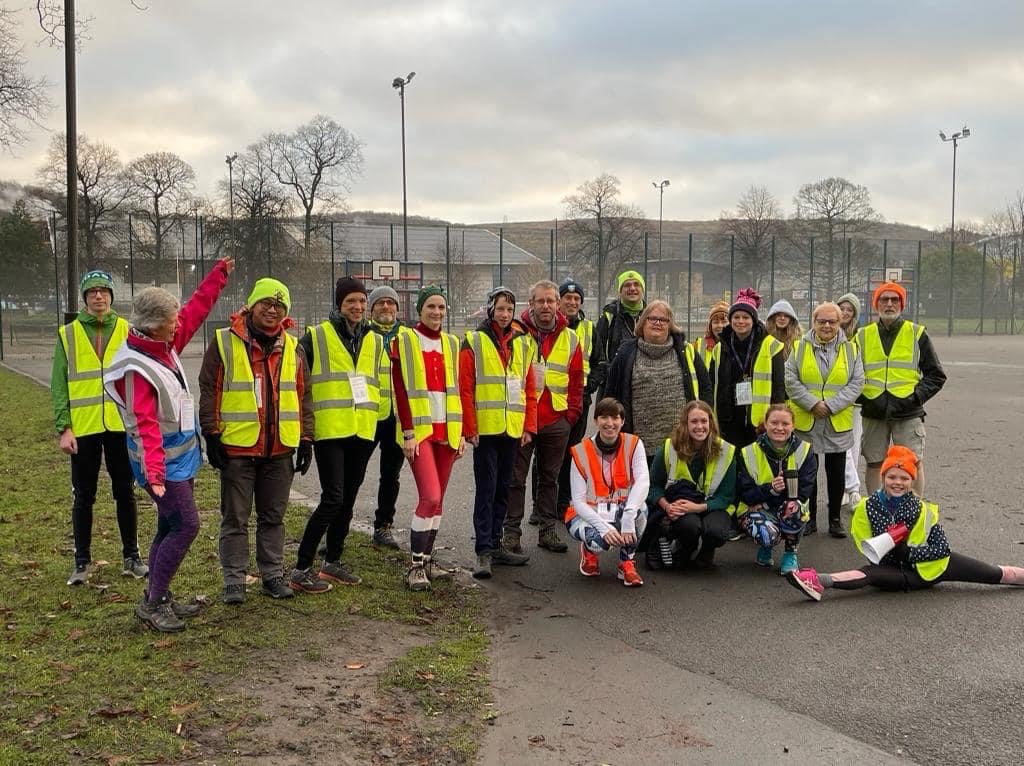 A friendly, conscientious Volunteer Coordinator can make the difference between a struggling rota and a full one
A rota of 5-6 Run Directors means the role never becomes onerous
Expect churn amongst your volunteers and core team – life circumstances change a lot for young families
A core team WhatsApp group is a good idea to keep EDs/RDs/Comms connected
A general volunteer WhatsApp group is a friction-free way for adult volunteers to offer to help – and works well if the Volunteer Coordinator can keep up with it and assign names to roles in the online rota
Having extra Run Directors in the park is reassuring if the weather forecast is dodgy eg icy or if there is work going on in the park (even if the landowner assures you it will not impact, unexpected things can happen)
The heart-warming way that local runners and non-runners can embrace a junior event and become regulars helping in the park on a Sunday.
Dedicated to Diane – Volunteer Coordinator and chief flower organiser! I know that you love what you do, and that you do what comes intuitively. You've been instrumental in building our community of volunteers and I think that you are exactly what every junior parkrun needs on their team. Linda
Hillsborough junior parkrun event statistics
Events: 91
Finishers: 1,188
Finishes: 7,418
Average finishers per week: 81.5
Volunteers: 237
PBs: 1,688
Average finish time: 00:13:52
Average finishes per participant: 6.2
Groups: 22
Stats last updated: Fri 11 Aug 2023 01:31:30 UTC
https://www.parkrun.org.uk/hillsborough-juniors/
Photo Credits George Carman and other volunteers