During the pandemic GoodGym's Operation Team recruited volunteers to keep up with the flood of new requests for help. I was one of these volunteers and wrote this piece describing a day in our lives and the lives of those that the GoodGym community supports.
In March 2020, the number of requests for help to GoodGym increased forty-fold, and one of my GoodGym friends told me about the advert for Operations Volunteers. The application deadline was that evening and I met it and was interviewed, trained and started shifts within a week. Here is a glimpse into my day. Get your tissues ready and read on to find out what I've been doing while I've not been blogging.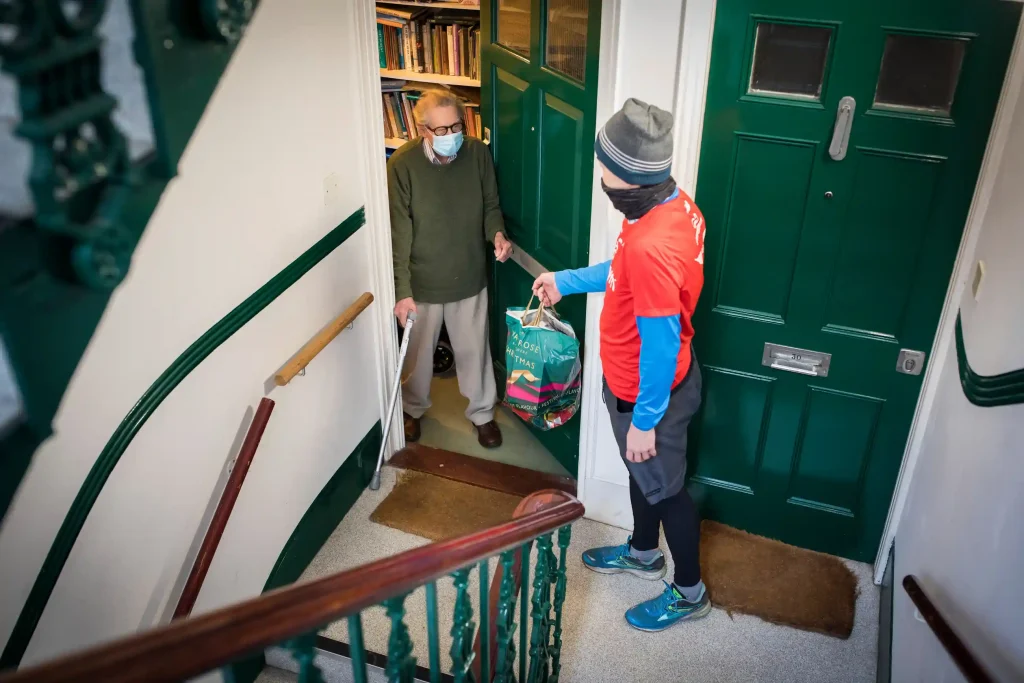 My story below led me to collaborate with Alicia Canter at the Guardian to produce this: https://www.theguardian.com/world/2021/mar/26/its-given-me-faith-back-in-humanity-the-lockdown-volunteers-a-photo-essay Image credit The Guardian
09.45 Supporting Mr J and his brother
We've had a request to support Mr J and I'm on the phone to him now. He calmly tells me how his younger brother died last week, and that his own cancer is worsening such that he is no longer strong enough to look after his middle brother. "To help you carry his suitcases and a TV downstairs and out to the taxi" – I check, trying to keep my voice calm and stop it cracking. My screen has blurred. "Our volunteers can certainly do that for you" I reassure him. "And be there with you when you say goodbye to your only living relative " I say in my head.
"my brothers in arms"
I press the end of call button and slide off my glasses to dry my eyes. Take a deep breath and start to write the confirmation message to prepare the runners for meeting Mr J and helping his brother move into a care home.
"you did not desert me"
10.30 cup of tea
I'm on a Operations Shift and I'm helping to turn the requests GoodGym receives from "Referrers" into Missions for runners. Missions always come into GoodGym from trusted partners such as AgeUK, The British Red Cross and various NHS Departments. My challenge is to check the details, phone the elderly or vulnerable beneficiary that we are supporting, and collaborate with the referrer to get all the information we need. I am trying to make sure the GoodGym volunteer can complete their mission without a hitch. I also have to ensure that the task we do meets the brief of the referrer and most importantly, that we safely and sensitively support the person who needs help. Oh and I have to be careful that everything I organise meets current Covid-19 restrictions for the area in which the mission is happening.
11.00 Hospital bed, new mission request
My Mission Coordinator Dashboard (which shows me – in order of urgency – all the new requests, all the missions that have runners signed up, and all the completed missions) is showing me a new referral request. But all it tells me is "Please clear furniture from bedroom to make room for hospital bed. Due to be delivered in 2 days' time and Mrs T discharged same day. Huh, this one could be hard work, but I know how overstretched the discharge teams are at the moment. Here is what I say: "Hello NHS Discharge team, to help me list this request please can you provide some more information: What furniture needs to be moved? Where is it to be stored? Does the move involve stairs? Who will provide access to the property? And will there be tools available for our volunteers to use if needed to dismantle any large items? Thank you for a prompt reply to help us find local volunteers in time." I'm trying to make sure our runners aren't in for a nasty surprise. I wait for a reply, and move on.
I've watched all your suffering
11.30 Medicines by bike
My dashboard is showing me a mission that has a runner and is ready to confirm. My e-mail to the runner says: "Hi Hilary, Prescription collection 4 of 4, bumper day today! Medicines collection for Mrs C. Please collect from Pharmacy (details here) and deliver to Mrs C. details are here: DOB, address, no payment required. This and the previous 3 prescriptions are all ready to collect so as usual it's ok to pick them up together and head off on your bike to deliver. Thank you, stay safe, all the best." This makes me feel efficient as it's such a simple solution – an organised pharmacy, a happy GoodGymmer on a bike who's able and willing to do four missions on the same day for different beneficiaries and lots of vulnerable people keeping safe at home.
11.40 Hospital bed, continued
We've had an e-mail back from the NHS Discharge Team and they"ve given me a contact to call. I phone them, it's an Occupational Therapist "Hello Emma, it's about clearing space in Mrs T's house so she can be discharged. I've got some questions; can you spare a minute?" Emma is on it! She's got everything sorted……. Mrs T's neighbour has keys, here's her name and phone no, she'll let you in, she's already emptied the cupboards so you can move them into the lounge which is down one flight of stairs. Emma has even booked the council to collect a single bed and mattress from outside the property. Oh brilliant, I think to myself, if only every discharge team had an Emma.
12.00 Emergency food shop
I've just been speaking to Ms Y who is isolating with a positive Covid test. Despite being indoors with young children on her own and with one with a disability she was just so grateful for GoodGym's help. Wow, some people are so resilient. I have to warn the runner about doing a Covid-safe shopping drop – but I add that "I'm sure she would like to see you at the gate and give you a wave."
"so many different worlds"
12.30 Hospital bed, continued
2 runners sign up just minutes before this task expires. It jumps in at the top of my confirmation queue and I dash off a detailed message to the runners. I later hear that the mission is successful. I'm glad Mrs T is back home and mega-pleased that we've helped free up a hospital bed. I could sense the urgency from the Hospital Discharge Team.
"and we have just one world"
A couple of days later: Supporting Mr J and his brother continued
Mission complete. The run report is a fitting tribute to Mr J: https://www.goodgym.org/reports/brothers-in-arms. More tears when I read it.
"let me bid you farewell"
The above is just taste of one shift during Covid-19 GoodGym Mission Operations. Volunteers have been helping like this since March 2020, and are continuing to do so to ensure GoodGymmers all around the country can provide their amazing support for so many different people.
*"Brothers In Arms" lyrics by Mark Knopfler