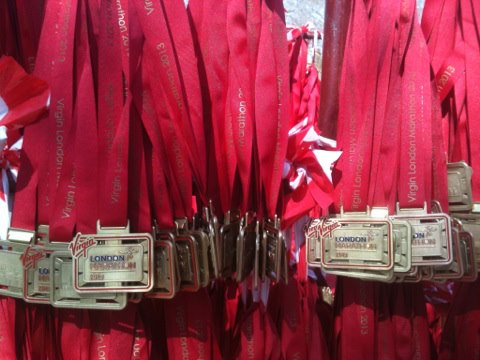 Cast your mind back to the Virgin London Marathon coverage on TV. Can you hear the music? Can you see the masses of bobbing heads filing through the starts? It is a pretty impressive site on TV and even more so if you actually go and line the route to cheer on the runners. On the 21st April I was lucky enough to be volunteering at the point that is the highlight for everyone that completes a marathon – the finish. As part of the team that collects the timing chips and presents the runners with their medals, we experience marathon emotion at its most acute. Hanging medals brings you very close and personal to the elated, sweaty, tearful faces. We were putting medals round necks at a rate of 240 per minute at the busiest time and in total, the London Marathon counted 34,256 runners through the finish.
The day before another running phenomenon in the UK did not make the headlines and was not on TV. It had 34,881 finishers*. These runners had run 5k not 26.2 miles. The finish line was actually 196 different finish lines all over the UK. But never-the-less more runners completed a parkrun on Saturday 20th April than completed the London Marathon on Sunday the 21st.
I am enormously proud to be part of the parkrun movement that is sweeping the country and empowering volunteers to set up timed 5k runs for their local community (see "The Volunteering phenomenon of the decade"). These events are non-elitist, friendly and informal. And they are bringing communities together.
On the weekend of 20-21st April 2013, two events took place in the UK that involved similar numbers of runners. One of them was the Virgin London Marathon. But if you know someone who might like a friendly, local 5k to start with, tell them about parkrun!
*Number is total parkrunners worldwide, with the majority in the UK